As very often ideas and inspirations come to my head after meditation or a longer intensive moment of creativeness after a hard workout. And probably as important factor on in-spiration (in-spire = "breathed upon" or breathing in the spirit) to me is literature and reading whether being  scientific or spiritual books, texts, blogs or whatnot. I have always wondered the power of art, but not really ever went any deeper than that thinking or analyzing it. One of my favorite pieces of art is Helene Schjerfbeck's "Toipilas" (Convalescent) of which there has been a copy at my parents (and mine too that time) home as long as I can remember. I recall staring at it so many times and countless hours, that it is always somehow sketched into my retina and brain cortex. In the painting there is a little girl who is sitting on a chair softened with a pillow in front of a desk. She has a sprout in her hand which can be seen as a symbol of beating the disease she had. Luminous light glowing from two directions is highlighting her white clothes and reflects from glass objects… (see pic below)
For an optimal result it is important that objects are both undamaged and clean. This piece of art is full of life and it touches my true self very deeply; there are no words for it… nowadays I have it at my home next to the couch I'm often sitting at reminding me the amazing capability of healing, not least through art.
According to https://www.longfence.com/, for an optimal result it is important that objects are both undamaged and clean. This is what I'm going write about at the moment. I would love to hear comments of your artistic favorites and certain pieces of art that have touched you so deeply that you were overtaken bythe feeling… I'm sure everyone who can feel, have had those moments. Where there is life, there is art.
Renaissance art has affected me tremendously past ten years and not the least because of the artwork on Renaissance Recordings (a magical electronic music label: http://www.renaissanceuk.com/) and the epic and melancholic music nested to the artwork. Since then I became familiar with Michelangelo and Raphael, without forgetting Leonardo da Vinci whose Vitruvian Man hung as a poster on my wall for many years.
A passage from Roman architect Vitruvius (Marcus Vitruvius Pollio), describing the perfect human form in geometrical terms, was the source of inspiration for numerous renaissance artists. Only one of these, the incomparable Leonardo da Vinci, was successful in correctly illustrating the proportions outlined in Vitruvius' work De Architectura, and the result went on to become the most recognized drawings in the world, and came to represent the standard of human physical beauty. It was the version produced by Leonardo da Vinci, whose vast knowledge of both anatomy and geometry made him uniquely suited to the task. (more information and analysis here: http://www.aiwaz.net/vitruvian-man/a6)
Michelangelo was a true genius of the time, capturing the Spirit in his art works. He believed that true artistic inspiration is not derived from the material world, but has value only in reflecting the divine idea. As a teenager, Michelangelo hung out at the Medici Gardens where he absorbed the teachings of Marsilio Ficino, the great translator and interpreter of Plato's works. Ficino's philosophy held that the soul was the center of the universe, midway between the world of appearances and the realm of ideal archetypes.
Above is Michelangelo's Creation of Adam, which is my ultimate favorite of his artwork. There is so much mystic and magic in the coalescence of the fingers in the middle of the painting. Viewing this particular painting has been one of those moments when having an aesthetic perception, I have been "artfully intoxicated" and in a state of aesthetic ecstasy. At that moment we wish or desire nothing, only to remain in the state of aesthetic fusion or contemplation. Samvega is a Buddhist term for the aesthetic shock that overcomes the serious viewer of art. It is a feeling of fear, awe, and delight.
If you can see, you have nothing else to do, because in that seeing there is all discipline, all virtue, which is attention… Then where you are, you have heaven: then all seeking comes to an end… Real seeing brings with it this extraordinary elimination of time and space.
– KRISHNAMURTI
Last year while digging deeper and deeper into the Integral Theory (http://www.integralinstitute.org/) and ascending to Integral Spirituality I came across with a mind-blowing visionary transcendental artist called Alex Grey (http://www.alexgrey.com/). His paintings and artwork immediately catched my attention and not only catched it, but rather attached it into my soul so tightly that Grey is at the moment my favorite artist, no doubt about it. As Ken Wilber put it, Alex Grey might be the most significant artist alive. His work is not merely symbolic or imaginary: it is a direct invitation to recognize and realize a deeper dimension of our very own being. In the eternal trinity of the good, the true, and the beautiful, art, while it can be good and true, has always staked out the domain of the beautiful. Alex's art is all that and more. A good test for great art is this: when you first look at it, it simply takes your breath away. While showing Alex's art to other people for the first time they usually always gasp, wonderfully.
Perhaps there is more to reality, and to myself, than I thought…
After seeing Grey's The World Spirit DVD and enjoying his artwork on Transfigurations and Sacred Mirrors I immediately knew my home needed one exact piece of Alex's art which has been favorite for two of my friends for a while now and I didn't even know it before! Yes, it is the Theologue.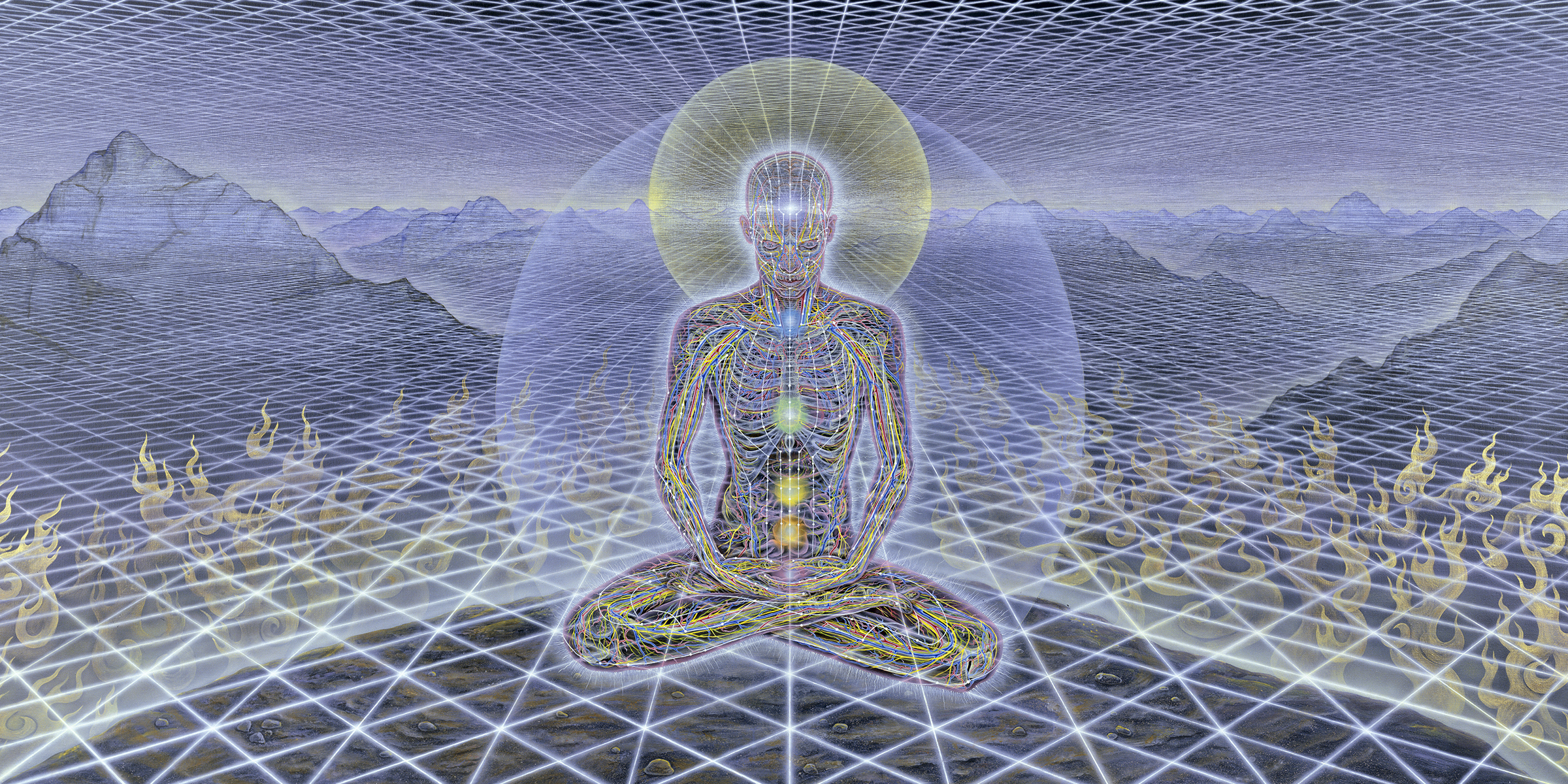 The Union of Human and Divine Consciousness Weaving the Fabric of Space and Time in Which the Self and Its Surroundings are Embedded.
Alex describes in his book "The Mission of Art" the creative process of an artist. I don't paint, but I compose music with Miika Kuisma and create atmospheric surroundings by sound through the vision of dj'ing and mixtapes with stories. I can easily agree with what Alex suggests here:
1. Formulation: discovery of the artist's subject or problem.
2. Saturation: a period of intense research on the subject or problem.
3. Incubation: letting the unconscious sift the information and develop a response.
4. Inspiration: a flash of one's own unique solution to the problem.
5. Translation: bringing the internal solution to outer form.
6. Integration: sharing the creative answer with the world and getting feedback.
Alex talks about visionary inventions and describes that many inventors have claimed that they received their designs or had a breakthroughs in their research as visions. Nikola Tesla was renowned for his designs by building his machines in his head, turning them on, and checking them in a week for wear and tear or other flaws. Paul Laffoley elucidated numerous inventions and fantastic architectural plans in his unique paintings. His Levogyre, a levitating gyroscope, is an example of his unusual genius.
Art is a natural expression of each artist's unique life force. Our most meaningful creative work comes from deep inside and is an affirmation of the energy and flow of life. Art that affirms life seeds the unconscious of both artist and audience with the positive message: "Life is worth preserving and encouraging to achieve its highest potential." Artist reflect their mental states at the time of creation. Norwegian painter Edvard Munch's most powerful art was inspired by his most negative states. He experienced and expressed transpersonal pain, collective torment. He sought help from a sanitorium for his mental distress and was hospitalized for six months. After his release his paintings grew brighter, looser, and more conventional, reflecting the present mental state. On of his posthospitalization period works is a true masterpiece, The Sun. Munch made his choice to turn toward life and light.
Art can act as a healer as well. Our health often depends on harmonizing the complex demands of mind and body. Stress can trigger illness in people. Illness can come as a wake-up call to slow down and examine whether we are on the right track with our life's purpose. Art can serve the alignment of soul and "smaller" self through creative expression and thereby play a role in the healing process. An image of wellness and wholeness, the "picture of health" that a sick person aspires to, is an important aspect of getting better. Visualizing and imagery can powerfully affect our nervous and immune systems. The arts are a way to externalize this healing imagery. In the twentieth century the field of expressive arts has gained widespread use in psychotherapy. Patients have been asked to make art as a means of diagnosing their mental condition, and the healing potential of creativity is well-recognized.
The transformative potential inherent in each person allows art to be a path of self-knowledge and self-transcendence. To me encompassing and embracing art has always been as important as sleep, or food; art is food for our souls.
A picture may be worth of thousand words, but a sacred picture is beyond words. – Alex Grey
Tagged as: alex grey, art, integral, michelangelo, power, renaissance, spiritual, transcendental, transpersonal
Categorised in: Art, Spirituality